A 13-year-old boy, Denis Langat, has been given a special government job, nearly a year after confronting Rift Valley Regional Commissioner, George Natembeya. 
The National Cohesion and Integration Commission (NCIC) appointed Langat, a student at Township Academy in Narok South, as a child peace ambassador as part of the measures NCIC is using to rehabilitate children familiar with clashes. 
When not in school, Langat accompanies NCIC commissioners and officers from Narok County to peace forums in the area where he calls for disarmament while preaching peace among the Maasai, Kipsigis and Maasai communities.  
"There are those among you that have not surrendered your weapons, kindly do so before the government catches up with you.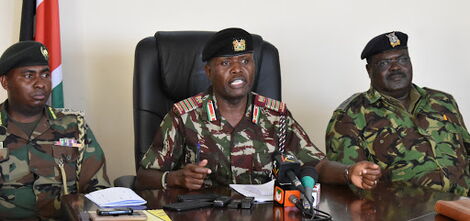 Rift Valley Regional Commissioner, George Natembeya (centre) addresses the media at a press conference in 2020
File
"We surrendered bows and arrows peacefully in 2020 but I wonder, do you want to hide in caves and dig holes to escape the wrath of the government," the 13-year-old warned. 
His mother lauded the government for securing the future of his son and also disclosed that they have been resettled to a new home after their house was burnt during an inter-community conflict in 2020. 
"I was worried about his future. I always broke down when I looked at him. I thank God for the new job and I am proud of him. I wondered what his life would have turned to if he had joined older men to fight in the forests," the mother wondered.
On Wednesday, May 27, 2020, Natembeya picked out Langat from a group of warriors and interrogated him, wondering why he was risking his life. 
The young boy claimed that his father was away herding cattle and that he had no other choice than to guard the mother and their property. 
"If a boy like this grows up in this kind of environment, what does he learn? I saw him on TV the other day holding bow and arrows," Natembeya stated. 
A few weeks later, the 13-year-old surrendered his weapons and was offered a government scholarship.
A young pastoralist carrying a loaded AK-47.
Amedia Agency