Treasury Cabinet Secretary Ukur Yatani has increased the Ksh2.79 trillion 2020/21 budget to Ksh2.79 trillion.
In the supplementary budget that is set to be tabled in the National Assembly for approval, the CS cited the increased allocations to development projects for the year and the recurrent expenditure as the main reason for the increase in the budget.
Yatani, in the final Budget Review and Outlook Paper (BROP) published on the National Treasury website, proposed to raise allocations to development to Ksh675.2 billion from the originally approved Ksh.589.7 billion.
The CS also increased the recurrent expenditure from Ksh1.844 trillion to Ksh2.014 trillion, an increase of Ksh17 billion.
A file image of the National Treasury
Twitter
The allocations to counties have also been raised from Ksh395.2 billion from Ksh369.2 billion.
The Treasury said the increase in county allocation is due to the arrears amounting to Ksh26 billion from the equitable share carried forward from last financial year.
However, the revised budget will see the country's debt grow further with the government set to borrow Ksh1 trillion in the financial year to June 2021 to fill the financing hole.
The country's domestic borrowing is also expected to increase from Ksh600 billion shillings from the originally planned Ksh494.3 billion shillings.
This has seen the treasury raise the revenue collection target for Kenya Revenue Authority (KRA) to Ksh1.602 trillion, a small increase from the originally approved Ksh1.634 trillion.
The new targets are expected to mount pressure on KRA as it continues to struggle to raise enough revenue as the tough operating environment continues to see businesses close their shops and employees laid off.
KRA tax collections through the first quarter of the 2020/21 fiscal year were down 15 per cent at Ksh317.7 billion in comparison to Ksh372.3 billion last year.
The newly published budget estimates are expected to raise credibility questions from both economists and the National Assembly as the National Treasury carry's on its trend of raising spending against falling revenue sources.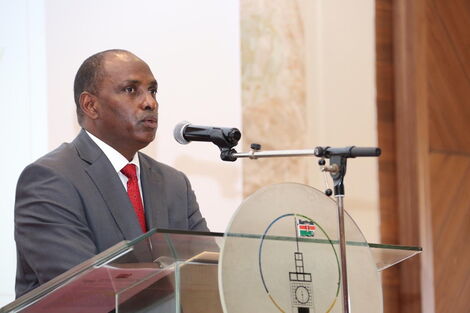 Treasury CS Ukur Yattani speaking at Ole Sereni on Wednesday, August 26, 2020
File