Research on some of Kenya's most luxurious cars by Kenyans.co.ke produced interesting results key among them being the fact that some of the most expensive cars in the country have Ugandan registration plates.
From a yellow Lamborghini Urus that retails at Ksh24 million (pre-tax) to a sleek blue and black BMW i8 (Ksh16.2 million pre-tax) to the Range Rover Autobiography (Ksh17 million pre-tax), among other high-end vehicles.
If imported and registered fully within Kenya, the owners of these top-of-the-range machines would have ended up paying double the actual cost of the vehicles due to relevant tax laws.
This explains why a good number of Kenya's millionaires have opted to go the 'Ugandan way' where applicable taxes are considerably less, resulting in millions in savings.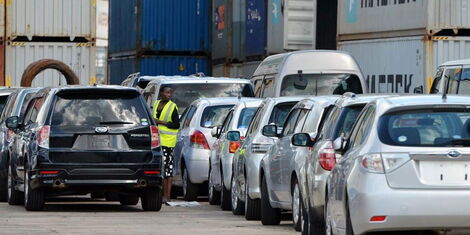 Imported cars at the port of Mombasa await clearance.
File
Speaking to Kenyans.co.ke, a citizen who opted to register his high-end truck in Uganda explained that Kenya's zero-tolerance for old classic cars (vintage) as well as left-hand drive cars contributed to his decision to go the 'Ugandan way'.
He further stated the regular payments for permits necessary to drive such a car in Kenya (usually after every 3 months) was inconvenient adding that if Kenya eased up on the importation of such cars, most would be willing to pay a one-off fee.
As a guide, information on the taxation or tariff on importing used vehicles in Uganda is as follows: Import Duty: 15 percent of dutiable value. VAT: 17 percent of VAT value and Withholding Tax of  4 percent of Dutiable Value.
It is important to note that there is no age restriction on the import of used vehicles.
On the other hand, according to the Kenya Excise Duty Act of 2015, an import duty of 25 percent is charged. Ksh150,000 is levied for a car less than 3 years old, while Ksh 200,000 for a car more than 3 years old.
On top of that, a Value-Added Tax (VAT) of 16 percent is charged to the buyer, an Import Declaration Fee (IDF) of 25 percent of the cost, insurance, and freight (CIF) value of the car is also charged.
The national government also introduced a Railways Development Levy of 2 percent to help the government finance the rail network's upgrade. It has been set at 1.5 percent of imported goods.
All these expenses have pushed a good number of Kenya's luxury car owners to register their cars in Uganda where it is cheaper before they can later change the number plates to Kenyan registration numbers.
As a result, Ugandan traders have emerged as top beneficiaries of the new tax regime that raised prices of second-hand cars imported in Kenya.
Kenyan car dealers have been crying foul over the influx of cheaper vehicles, either diverted from Uganda-bound cargo or rerouted once cleared in the landlocked country.
The new tax laws touching on the importation of vehicles into Kenya that came into effect in December 2015, led to a public outcry.
Those looking to buy popular budget car models valued at below Ksh1 million were hit hardest following a near doubling of the excise duty with the amendment of the law.
Uganda, which shares a custom territory with Kenya – and orders its second-hand vehicles through the port of Mombasa – does not apply the same tax rules making its imports cheaper.
Kenyan authorities are vigilant to curb taxpaying evaders importing vehicles illegally, hence one should be aware that the administration will be scrutinizing you on the border to verify your documents.
To avoid running into trouble at the border, it is important to ensure that one has all the legal documents and that they are up to date.
According to current laws, prior to gaining entry approval, the foreign operator from the East African Community (EAC) and Comesa countries must have a valid temporary importation of road vehicles form (Form C32) which is issued at a border station.
One also has to apply for a foreign motor vehicle permit.
To use a Ugandan car in Kenya temporarily, one needs to procure a foreign vehicle permit from NTSA. This can be done using the e-citizen portal.
The application fees vary depending on the vehicle's engine size and on how long you intend to use the car in the country.
For example, using a car with Ugandan registration plates that's above 2000cc for a 3 month period in Kenya costs $ 101 (approximately Ksh 11,079 at the current exchange rate).
Cars below 2000cc for a similar period are charged at $51 (approximately Ksh 5,594).
The difference in taxes between the two countries when it comes to the importation of cars has also been linked to the rise of cartels that sneak vehicles through the various Uganda-Kenya border points without paying excise duty.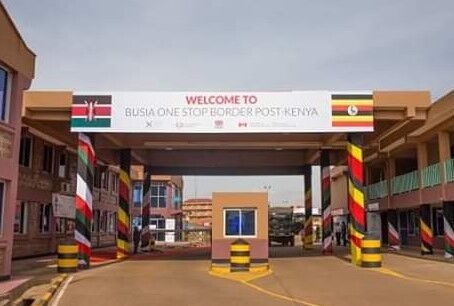 The Kenya-Uganda Border Post.
File