Her Majesty Queen Elizabeth II awarded a Kenyan woman for her role in empowering women in the country. 
Sadia Hussein received the Commonwealth Points of Light award on the same day the world was celebrating International Women's Day on March 8, 2021. 
The award was presented to her by the British High Commissioner to Kenya Jane Mariott at Tononoka Hall in Mombasa County.
British High Commissioner Jane Mariott presenting the Commonwealth Points of Light award to Sadia Hussein on behalf of Queen Elizabeth on March 8, 2021
Sadia was recognised by the queen for her transformational work in campaigning against Female Genital Mutilation (FGM). 
"The UK is honoured to support and recognise inspirational women like Sadia Hussein, who has campaigned tirelessly against FGM, or Dorothy Mutuku, for her amazing work promoting intercommunal relations with the police," the British High Commissioner said. 
Sadia, being a victim of FGM, took it upon herself to deliver her fellow women from the harmful practice. 
She recently launched a book titled The Scars of Female Genital Mutilation to lay bare the realities of what FGM survivors endure.
In the book, she reveals that when it was time for her to give birth, she struggled in labour for three days because the traditional attendant could not deliver the baby due to her constricted birth canal.
Kenya has ramped up its fight against the practice in a fight backed by President Uhuru Kenyatta who made it a personal mission to end FGM. 
Over the weekend, President Kenyatta presided over the signing of the landmark declaration by Samburu Community elders to end FGM and child marriage in the community.
"If we want to achieve our national goals, we have to change and offer our girls opportunities in education to excel.
"If you look around the world, women are holding high positions and we don't want to be left behind because of retrogressive cultural activities," the President said.
"Samburu has been a key FGM hot spot with a prevalence rate of 80% so the signing of this declaration is significant progress and a step in the right direction," Gender CS Margaret Kobia noted.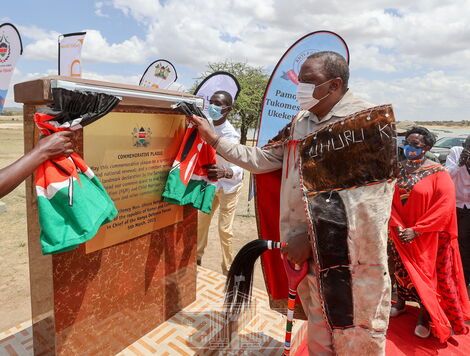 President Uhuru Kenyatta presides over the unveiling of a landmark declaration to end female genital mutilation (FGM) and child marriages among the community at Kisima Grounds in Samburu County on March 5, 2021
PSCU