The Law Society of Kenya on Monday, October 19, issued a statement confirming the resumption to office of Mercy Kalondu Wambua as CEO.
In the press release, the Council further warned President Nelson Havi on his conduct which was termed as illegal and disrespectful.
"We would like to assure the membership and general public that the issue of the CEO has been resolved. We urge the President to respect the council members, democracy and majority decision," the statement reads in part.
Kalondu was suspended between the September 15 to October 19 period over allegations of gross misconduct and incompetence.
LSK CEO Mercy Kalondu Wambua.
File
However, in its latest statement the LSK council stated that the charges levelled against the CEO did not hold water.
The Council further revealed that Havi attempted to veto their decision to reappoint Kalondu as the CEO, a move which was described as unconstitutional.
"It is important to note that the President unlawfully and unjustifiably walked out on the Council members alleging that he was going to write a judgement alone and deliver the same on October 19, 2020,
"The President does not have any power to veto the decision taken by a majority of the Council members," reads an excerpt from the statement.
Havi's move to inform the media that the CEO was frustrating the LSK ,and that some members of the council were compromised was also highlighted.
The council hence called on the Senior Counsel Bar to advise Havi on his conduct and how to lead the LSK.
Council members who signed the statement were: Roseline Odede, George Omwana, Carolyne Mutheu, Faith Odhiambo, Aluso Ingati, Ndinga Kinyili, Bernhard Ngetich, Riziki Emukule and Beth Michoma.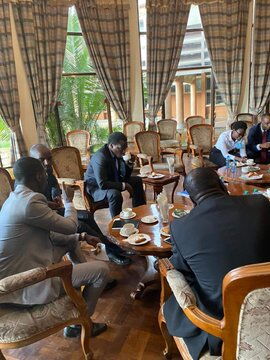 LSK President Nelson Havi and his teammates having a cup of tea in parliament on Monday, October 12
Twitter