National Transport and Safety Authority (NTSA) on Monday, October 19, unveiled a new training programme for matatu drivers.
This comes after the authority noticed a spike in accidents countrywide most of which were caused by drunk driving.
The program, which is a partnership between NTSA and Kenya Breweries Limited, will seek to sensitize the drivers on reducing the spread of Covid-19.
It is expected to explore ways in which the drivers can ensure their passengers adhere to Covid-19 protocols issued by the Ministry of Health.
Citizens at NTSA offices
During the signing of the memorandum of understanding, NTSA Director Badu Katelo warned drivers flouting Covid-19 directives that the state would catch up with them.
Murang'a County Commissioner Mohammed Bare reiterated the director's sentiments noting that the security agency was alert.
"Some vehicles are filled to capacity especially in the evenings defying the requirements of the law. We should not concentrate on profits and put people's lives at risk.
"If you exceed the required capacity, your Sacco will face a full force of the law," stated Barre.
The training will include demonstrations on how to clean the matatus to ensure that commuters are safe.
The program was rolled out a week ago and has been effected in several counties including Murang'a and Kisumu.
As of August 2020, National Transport and Safety Authority (NTSA) raised an alarm over increased road fatalities especially with pedestrians being the biggest casualties.
The authority further indicated that accidents had been costing the state a loss amounting to Ksh300 billion every year.
The data showed that 3,567 people lost their lives in 2019, an increase from 3,337 recorded in 2018.
Out of the fatalities, 1,376 were pedestrians, 875 motorcyclists and 565 passengers.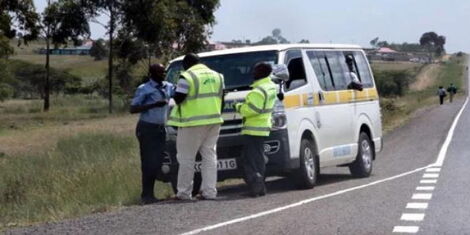 NTSA officials pictured inspecting a matatu on the Nairobi-Nakuru Highway in December 2019
Twitter